Katie Steckles
Mathematician, presenter and communicator
About
Katie Steckles is a mathematician based in Manchester, who gives talks and workshops and writes about mathematics. She finished her PhD in 2011, and since then has talked about maths in schools and universities, at science and music festivals, on BBC radio and TV, as part of theatre shows, in books and on the internet.
Current projects include:
Longer-term projects, with links, are listed below.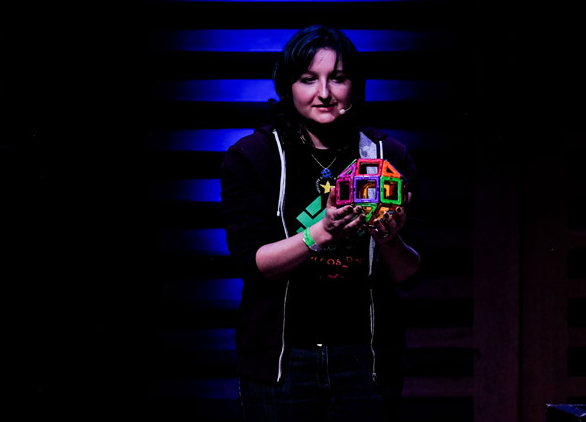 Photo by Steve Best, Nine Lessons and Carols for Curious People 2018
Testimonials
Her mathematical passion is only equalled by her knowledge and her clever demonstrations.
Cheltenham Science Festival
2015 brochure
Obviously a gifted presenter. Wonderful explanation and inspired both of the children (12 and 14) to investigate mathematics further!
Cambridge Science Festival
Audience feedback
Like Ghostbusters, but for maths!
BBC Radio Manchester
Production Assistant
Dr Katie Steckles is not just an amazing mathematician, but has proved to be a great speaker who holds the audience extremely focused.
Cambridge Science Festival
Audience feedback
I really like the maths lady, I want to be a mathematician
Year 7 Student
London